Dear visitor,
Welcome to Edged Weapons.nl, an exclusive website consisting a huge collection of antique and modern military bayonets from all over the world and all for sale.

We ship World wide!

We are located in the Netherlands, Lichtenvoorde a small village in the east of the Netherlands and near the German border!
Our catalogue consist more than 450 bayonets for sale, well described and shown in more than 4.500 detailed images. Also you will find a number of antique military swords, hangers, daggers and militaria on this site.
Many items you will find in this catalogue are unique and hard to find. We do our very best to find items in the best available condition on the market and strive to find examples in Very Good Condition, Excellent and MINT condition only.
We therefore advise you to bookmark this site. We keep this site up to date and add weekly new items to this list.

If you want more detailed information of that particular item from our list, please contact us by our contact form and/or by e-mail so we can send you the requested information.
We are pleased to accept your order via our Shopping Cart, but if you prefer to order "the good old way" there is never a problem!
Simply send your order to: This email address is being protected from spambots. You need JavaScript enabled to view it. or to: This email address is being protected from spambots. You need JavaScript enabled to view it..
You can pay us by Paypal, Bank transfer, iDEAL, or by Credit card (via Paypal).
We hope you can find on this website that great item for your bayonet collection you are searching for since a long time.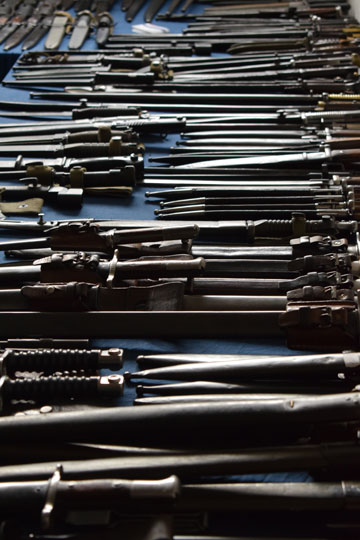 Please note that we also have a showroom. Visits by appointment only.
Our showroom is not opened all days. If you want to visit this showroom, please send a request for a visit by e-mail. Do not forget to give us your name, full address, e-mail address and phone number.


Hopefully you enjoy this site and we would appreciate any comments you may have.
Edged Weapons.nl

Cees N. J. Van den Assem, Antiquarian

Member of VVNW Vereniging Van Nederlandse Wapenverzamelaars

Member of SABC Society of American Bayonet Collectors