Betaal nu met Paypal zonder extra kosten!
Geachte bezoeker,
Welkom op de website van Edged Weapons.nl, een Nederlandse website voor verzamelaars van bajonetten, antieke blanke wapens, sabel accessoires en overig militaria.
Wij verzenden over de hele wereld!

Op deze site worden meer dan 450 antieke en moderne bajonetten te koop aangeboden, voorzien van meer dan 5.000 gedetailleerde en overzichtelijke afbeeldingen. Ook vindt u hier een grote collectie blanke wapens en nu ook diverse militaria en boeken.
De aangeboden bajonetten en blanke wapens zijn uniek, in een goede staat en dikwijls moeilijk verkrijgbaar. Wij verkopen uitsluitend originele wapens en geen replica's.
Wij staan altijd open voor verbeteringen en stellen uw commentaar en of aanmerkingen over onze site bijzonder op prijs.
Vragen stellen over de aangeboden items kunt u het beste doen via de e-mail of het contact formulier.
Bestellingen kunt u plaatsen via het winkelwagensysteem. Betalingen kunt u doen via uw Bankrekening , Paypal, iDEAL, of met uw Credit card (via Paypal.)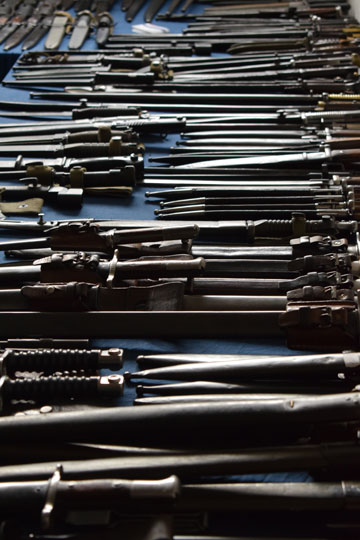 Er is ook een mogelijkheid om een bezoek te brengen aan onze showroom in Lichtenvoorde.
Dan kan dan wel alleen op afspraak! Stuur ons hiervoor een verzoek. Gebruik hiervoor de Contact knop. Geef aan op welke datum en tijd u ons zou willen bezoeken. Vermeld hierin ook duidelijk ook uw naam, volledig adres en e-mail adres en telefoonnummer zodat wij u kunnen bereiken.
Wij wensen u veel plezier op onze site.
Edged Weapons.nl

Cees N. J. Van den Assem, Antiquair

Member of VVNW Vereniging Van Nederlandse Wapenverzamelaars
Member of SABC Society of American Bayonet Collectors